Progressive Top Locks provide positive guidance between cavities and cores. The design allows for easy installation and fitting as the pockets are machined from parting line.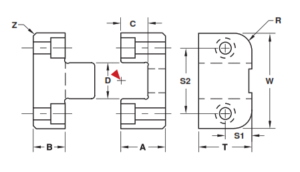 METRIC          Z-Series Top Lock        DUAL RADII
TLM26x35         26mm x 35mm             TLM26x35-R
TLM30x45         30mm x 45mm             TLM30x45-R
TLM36x55         36mm x 55mm              TLM36x55-R
TLM36x75         36mm x 75mm              TLM36x75-R
TLM45x100      45mm x 100mm            TLM45x100-R
SPECIAL         Custommade
TL-SPECIAL     TLXXXxXXX / TLMXXxXXX
Meer informatie over afmetingen, specials en inch-uitvoeringen staat in de brochure.