Increased Profits
DT Collapsible Cores offer a unique opportunity to revisit older tooling designs and rebuild or refurbish the moulds for maximum production efficiency and profitability. Many moulders have
realized the cost-saving and profit-boosting benefits of using DT Cores.
DT Cores allow for:
Simplified, smaller moulds
Faster cycle times
Improved part quality
Reduced mould maintenance
Ability to rebuild existing tools and breathe new life into old unscrewing moulds.
Conversion to DT Cores through replacement mould or back half rebuild.
 Simplified Mold Design
Do the Math… Let Roehr Tool help you calculate the ROI for your next project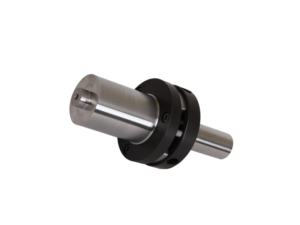 dt series grinding fixtures
Grinding Fixtures for DT Collapsible Cores securely hold the core segments in place against the center pin when grinding, high speed machining or EDM'ing details. Although normally Roehr would provide cores with finished moulding details, grinding fixtures allow customers to machine their own details.
dt series "quick lock" plate (optional)
Utilizing Roehr's exclusive Quick Lock mounting configuration, the DT Core can be removed and serviced while the mould remains in the press. This feature allows for a higher cavitation percentage and lower maintenance costs than other tool design approaches.
dt series "retention sleeve" (optional)
Retention Sleeves for DoveTail Collapsible Cores assure the position of the moulded part during core collapse and part ejection.