Het schone alternatief voor hydraulische cilinders.
LIM | LIX | LTX – Servo linear actuator "integrated"
The compact linear actuator with inverted roller screw spindle and integrated hollow shaft motor.
Available stroke, depending on the version from 76 mm to 610 mm
Embodiments of the roller screw spindle:
–  LIM = standard roller screw spindle
–  LIX/LTX = high capacity roller screw spindle
Position encoder system resolver or absolute encoder
Inverted planetary roller screw spindle
In the inverted construction, the spindle nut rotates instead of the spindle. In the integrated linear drive LIM / LIX this rotational movement is initiated by the rotor of the servo motor.
Characteristics:
> Shorter construction through hollow shaft motor
> Compact, fully integrated design
> Spindle must be secured against rotation!

PGT – Servo linear actuator "fully integrated"
Compact linear actuator with roller screw and space-saving Servomotor on-top.
Spindle length from 250 mm to 3000 mm
Position encoder system resolver or absolute encoder optional with motor brake
Particularly low-noise running and high travel speeds
Large number of contat points allows compact design and long lifetime
High load ratings, high efficiency and high positioning accuracy
Applications
Ejector plates and needle lifting plates in hotrunner systems
Racks in unscrewing molds
Sliders and core pullers in injection molds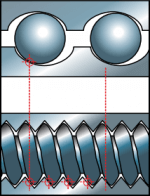 Planetary roller screw spindle
In comparison to ball screws the threaded roller spindle has a lot more contact points. Thus, considerably higher loads can be transmitted with greater rigidity. Advantages:
Compact dimensions
High forces and velocities
Long lifetime (about 15x to KGS)